Popular Electronic Gift Ideas to Buy from Amazon
If you've got Amazon gift vouchers burning a hole in your pocket or you want to get a popular Amazon electronic gift for that special someone in your life then we have picked out some great Amazon gift ideas for you to have a look at and choose from.
The bonus with these gift ideas is that they tend to be discounted throughout the year so it is well worth keeping your eye on the prices when you are looking to purchase your next Amazon device.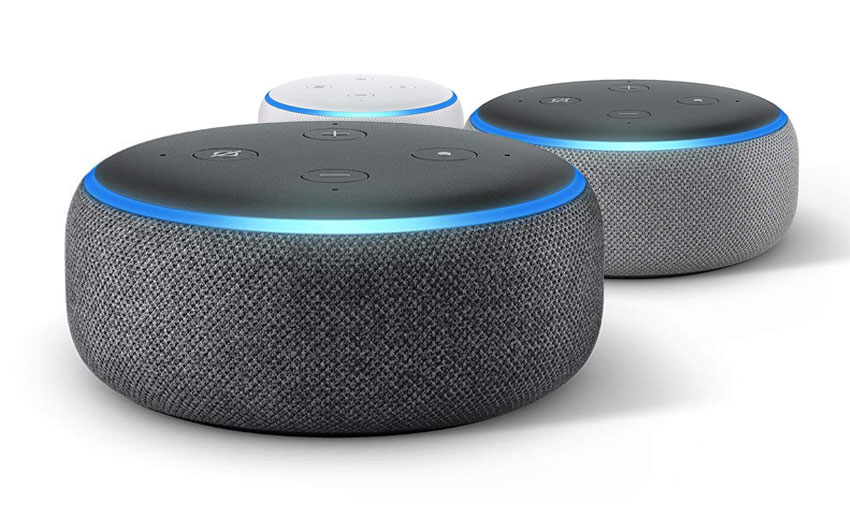 Now in its third iteration, the Echo Dot needs no real introduction but if you are unaware of what it is then simply put the Echo Dot is Amazon's voice-controlled smart speaker.  Compared to the previous versions of the Echo Dot the newest ones come with better sound and the design has changed ever so slightly giving it a larger footprint and surrounding them with a trendy fabric that is available in three colours.
This device is great to place in any room of your house and via clear voice controls you can ask it to carry out a whole host of commands that can include streaming music (an Amazon prime account may be required), radio, set reminders, tell you the weather or news plus a whole host of other things that you can discover on this device.
As mentioned previously it comes in three fabric colours which are Charcoal, Heather Grey and Sandstone so it should fit in neatly to your room's decor.  Finally, this device is also very easy to set up and can be done by simply downloading the Amazon Alexa app and following the instructions.
If you keep your eyes peeled you may find this device on offer from as little as £30 so for that price it would make a great gift for Father's Day, Mother's Day, Valentines Day, Birthdays or even Christmas.
The bigger brother of the Echo Dot, and in its second version, the full-blown Amazon Echo is a taller version of the Echo Dot smart speaker from Amazon.  The main reason for the Echo's taller shape is simply down to its better sound setup, including a 2.5″ woofer and a 0.6 tweeter, allowing it to emit 360 degrees of lovely fuller Dolby sound.  Other than that it has the same functionality as the Echo Dot and if it's a better sound that you're after then this is the one to go for.
You can go for the more expensive version of the Amazon Echo, the Echo Plus, and you do get the added advantage of better speakers, a built-in Zigbee smart home hub which is great for controlling your smart home devices dotted around the house and you also get a line-in and line-out connection.
Just like the Echo Dot the Amazon Echo and Echo Plus are available in three flavours which are Charcoal, Heather Grey and Sandstone.
This was a game changer when it was released all the way back in 2007, allowing you to store a multitude of easily accessible books, newspapers and even comics in one very handily portable device.  Using low powered display technology called e-ink this device could be powered for weeks as opposed to days before needing a charge and was enabled with a wi-fi connection, allowing you to purchase books with ease from Amazon's vast library of e-books.
Now in its eighth version, the base Amazon Kindle is thinner, lighter, easier to read and sports a better glare-free, touch screen display.
It carries 4GB of onboard storage, allowing for numerous amounts of books.  It also still allows for weeks of operation without the need for a charge and is ideal for the avid book reader who is planning to go on holiday and doesn't want to be overladen with the weight of actual printed books in their luggage.
The base Kindle is available with Special Offers, which is cheaper and when in rest mode the screensaver displays sponsored advertising, or you can pay a little more to have it without Special Offers which is down to your personal preference.
You can also pay a bit more and get the much more premium Kindle Paperwhite which sports an easier to read higher resolution display, has more onboard storage (starting at 8GB) and also has a built-in 5 LED light allowing for night-time reading.  It is also waterproof, which is ideal for sitting poolside when you are on holiday.
There is also the top of the range Kindle Oasis to consider which is larger, has better-LED lighting and also has a touchscreen with page turn buttons.
Whatever Amazon Kindle you choose we feel that it is a must-have device for anyone who loves books and enjoys reading on the bus, train or even near the pool and with its diminutive size it is an essential accessory for those who love travelling as well as reading.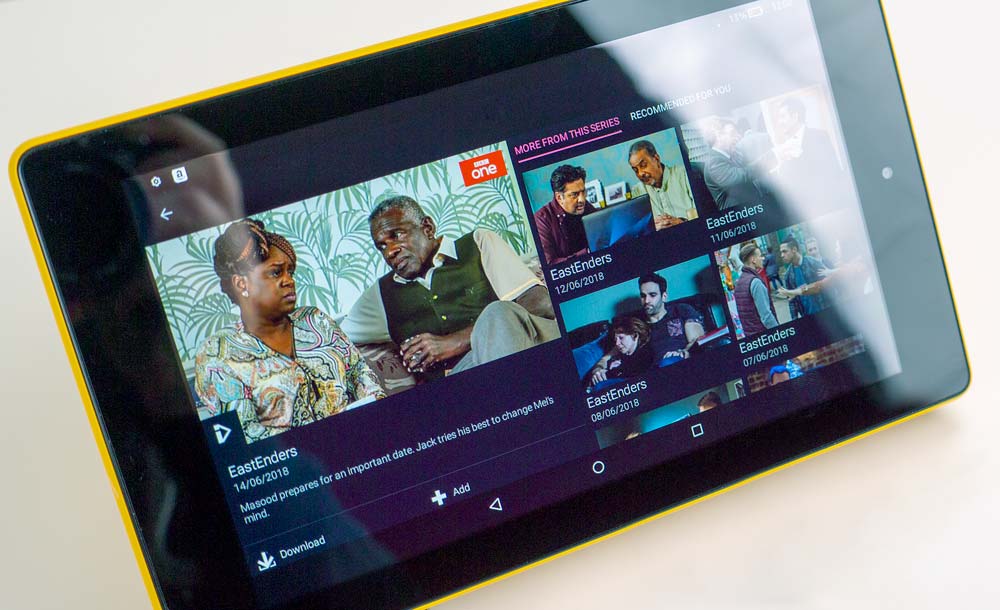 If you are after a relatively low-cost tablet that will be predominately used for entertainment purposes then this is for you.  While it can do a whole host of other things besides entertainment, the Amazon Fire is an Amazon-powered device that really comes to life if you have an Amazon Prime account.
If you are looking for a device that is mainly a Google unit first and features Google's Play Store then we would suggest that you go elsewhere as this is a device that is locked into Amazon's ecosystem, so you may find this fact a little limiting.
We have enjoyed using the Amazon Fire for the past year or so and have the yellow version of the 8GB Amazon Fire (pictured above) though if you are after something a little more we would suggest the more higher resolution Amazon Fire HD8 which has more onboard storage and a higher resolution screen.
This is an ideal inexpensive gift to give to someone who doesn't own a Smart TV.  Amazon Fire Stick simply connects into the TV's HDMI port and once the powered via it's Micro USB connector either via your TV, if you have a USB port, or by the USB power adaptor that comes packaged within the box it gives you access to many channels of entertainment.  As it is essentially an Amazon skinned Android powered device you can download compatible apps from Amazon's App store which can include games, well-known apps such as Netflix, iPlayer, ITV Hub and the like plus if you have an Amazon Prime account you can also access their vast library of films and tv shows.
As well as the aforementioned, the remote control also has Amazon's smart assistant baked into the device allowing you to issue voice commands not only to the Amazon Fire Stick but also to a range of compatible smart home devices.  Not bad for a low-cost device.
One final thing to consider when purchasing is the TV's resolution that it is being used on, as the base Fire Stick can output to 1080p HD or if you or the intended person you are looking to buy this for owns a 4K television then it might be worth looking at the Fire TV Stick 4K Ultra HD which is only a small amount more than the base Fire Stick.
We hope you like some of our handpicked Amazon gift suggestions.  Whether they are for yourself or for someone else they resemble great value for money and have the added extra of Amazon's Alexa smart assistant which can be a great bonus to have if you or the person you are intending these gifts for owns other Smart Home devices.