Home » Uncategorized » Amazon Fire 7 Tablet Review – A cheap tablet designed for entertainment
The Amazon Fire Review
Here at We Try Anything, we're having a look at the second version of the very popular Amazon Fire 7 tablet and wanted to see what you got for your money, is it any good and what needs does it fulfil.  We will not be referencing it to the older version of the Amazon Fire 7 tablet as we will be looking at it afresh.
A little bit about the Amazon Fire Range
First of all, what is the Amazon Fire range of tablets about?  The Amazon Fire range was designed to be a very pocket-friendly range of tablets encompassing all of Amazon's ecosystem and aiming themselves as mainly entertainment devices.  The range of tablets that Amazon currently have on offer at the time of this review are as follows:
• Amazon Fire 7
• Amazon Fire HD 8
• Amazon Fire HD 10
• Amazon Fire 7 Kids Edition
• Amazon Fire HD8 Kids Edition
With prices starting from £49.99 all the way up to £149.99 for the Amazon Fire HD 10 you can see the range does cater for children as well as adults and in the HD 8 and 10 range you have a larger tablet with screens that offer a better resolution and added battery life.
Amazon Fire 7 Specification
What do you get with the Amazon Fire 7? Well first of all, as the name suggests the Amazon Fire 7 sports a 7-inch screen that has a resolution of 1024 x 600 pixels equating to a pixel density of 171 ppi.
Storage comes in two flavours, 8GB or 16GB for an extra £10 more.  If the onboard storage isn't enough for you then the inbuilt micro SD slot can accept a card up to a whopping 250GB in size and it has 1GB of RAM memory built-in, not a lot when you compare it to other brand name devices but you have to remember it's only £50!
Camera-wise, the Amazon Fire 7 uses a 0.3mp front-facing camera and a 2-megapixel camera on the rear. The Amazon Fire 7 device uses a MediaTek MT8127 Processor Quad-core 1.3 GHz processor to power the device and has a claimed 8 hours of Lithium-ion based battery life which can take up to 6 hours to charge via its micro USB connector. It also features a 3.5mm headphone jack for headphone use and has an internal speaker when headphones are not available plus an inbuilt microphone.
The Amazon Kindle Fire 7 dimensions measure 192mm high by 115mm wide and is only 9.6mm thick.  It also weighs in at 295 grammes. For a penny under £50 you do seem to get a lot for your money especially when you compare it to other Android-based devices that you can purchase from eBay and the like, plus did we also mention that the screen used on the device is an IPS panel.  Not bad for £50!
Why is the Amazon Fire 7 so cheap?
While the specification isn't truly industry-leading, for the £50 you do get a lot of comparable hardware for your money.  So where's the catch you may think?  Well, to offer the device to customers at a low price point Amazon has employed a few tricks that help bring the cost of the device down from its competitors.
First of all the device is subsidised by Amazon with special offers and sponsored adverts that are featured on the lock screen. The second reason for the device's low price point is that when using the device you will notice that there is no inclusion of Google's Play Store.  Instead, the device utilises an operating system called Fire OS which is Amazon's branded version of Android that acts as a kind of Amazon's ecosystem on the tablet.
The idea of employing an ecosystem within the device is that you are funnelled into more of Amazon's products and services. Now we didn't see this as a bad thing, especially if you are an Amazon Prime member but if you're looking to buy an Amazon Fire 7 and expecting to see any mention of Google's Play Store on there then it may not be the one for you.
Are the materials used any good?
The device isn't flimsy.  It seems quite sturdy and we feel that it should cope fairly well with the rigours of modern life, though if it is going to be chucked into a bag and carried around then it might be worth getting a case and screen protector for it. The back is made of a fairly grippy, matte plastic and the buttons placed around the device are reassuringly clicky and ok to use.  To be honest it doesn't feel low-rent or cheap and has a fair amount of quality about it, which we liked.
How does it perform?
Performance-wise the tablet feels fairly snappy in its operation and getting the device up and running was an absolute breeze.  It's even easier if you have an Amazon account as the OS is predominately set up as an ecosystem for Amazon's products.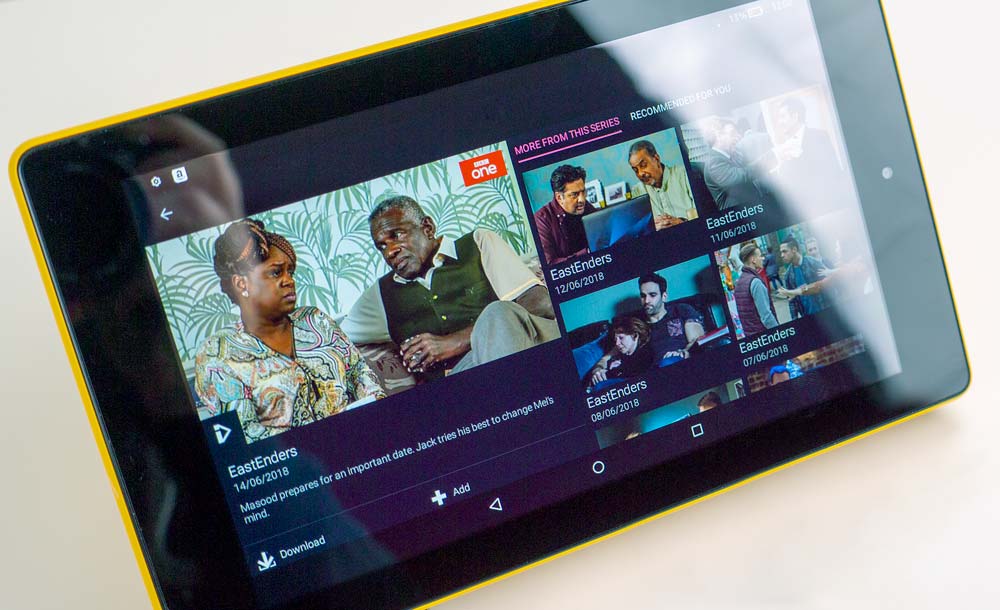 Swiping between different screens wasn't exactly buttery smooth, as it did judder a little, but for us it was adequate and opening applications didn't take too long, though we did note that there was a slight lag between tapping on the app and the app loading.
After the initial loading of apps such as BBC's iPlayer, it seemed ok and going through the different programmes and selecting one to watch was quite fluid in its operation. If you were to use this tablet for games then you may struggle, as for the price point that this tablet is positioned at the performance seems ok but for anything that would be a bit more taxing like 3d gaming then you might be wanting for something a bit more powerful but in general, we found this device to be ok in its overall operation and if you are expecting more from your device then you may need to spend a little more and look elsewhere.
We found the screen quite responsive in its use and as it is an IPS display the viewing angles were good and didn't fade in any way but we felt that the panel could have been a little brighter to help it better in sunlight but when used in the home environment we had no problems. With the camera, as the Amazon Fire 7 only uses a 2-megapixel camera on the back of the tablet, it is fairly low resolution for today's standards and the quality of the shots was pretty low-rent but if kids are using the device to take some fun photos of movies then they will be more than happy with it, but as a dedicated camera, we would stick to our smartphones or an actual camera.
Alexa… Are you built into the 2017 Amazon Fire 7?
"Yes, I am." With Amazon's thrust to build their Artificial Intelligence entity, known as Alexa, into products such as the Echo, Echo Dot, Fire TV and the Fire Stick you will also find her baked into the Fire 7's operating system. Alexa is only accessible by pressing the Fire OS's software home button for a few seconds to spring her into life then you can ask her to play music, movies, search the web amongst other things.
Not a bad addition, but for us, it was something that we didn't really utilise much when we were getting to grips with this tablet but you may have more use for her.
So, is the Amazon Fire 7 Tablet any good?
Well, we would say that it depends on what your requirements are for a tablet and the budget you have to spend. If you are looking for an easy to set up, cheap tablet and don't have very high expectations then we would say yes go for it!  If you are an Amazon Prime Member then absolutely, as a lot of the Amazon services are baked into the Fire OS operating system and you would be getting the most out of this tablet.
If you are after a tablet that offers a high screen resolution and you would want to game on it then we would say that you might want to look at Amazon's Fire HD 8 or 10 range to suit your needs or alternatively look elsewhere.
If you prefer to have Google's version of Android and the services that it offers then we would say that you need to steer away from any of Amazon's Fire range as there is no way of getting Google Play Store on there unless you sideload it, and having Bing as your search engine provider may put you off plus you are totally within the walled garden of what Amazon has to offer. Though saying the above and overall, we do like the Amazon Fire 7. It isn't a complicated device, it has an ok specification and the price that you pay for it makes it a very attractive proposition but if you want to really get more bang for your buck then we would say to put off your Amazon Fire 7 purchase until Black Friday where these devices can be had for as little as £29.99 and at that price point we think it's a no-brainer if you are looking for a low-cost entertainment focussed tablet.
If you would like to view more of our Tech reviews then simply CLICK HERE.